Swifts and Martins of Selborne, 2020
Return to Artist Book Collaborations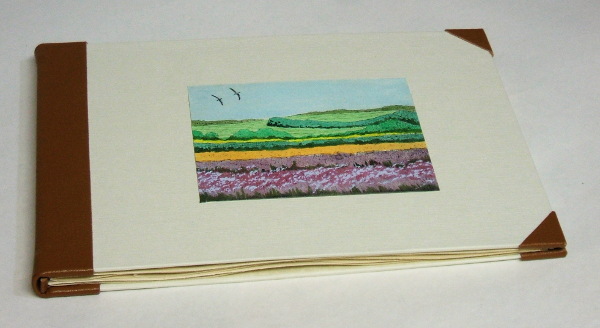 Swifts and Martins of Selborne closed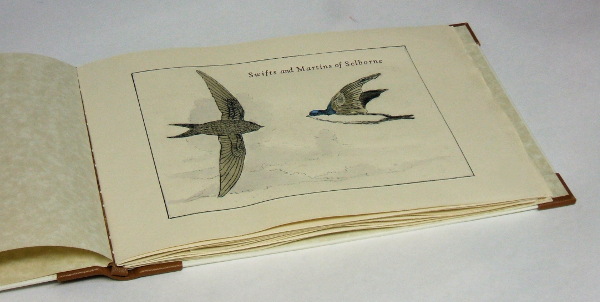 Swifts and Martins of Selborne open to the title page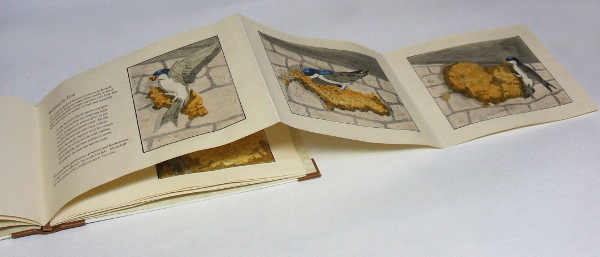 Swifts and Martins of Selborne open to Building the Nest pull out

Specifications - Edition of 15
Covers - Linen Washi paper over board, goatskin spine and corners.
Cover Illustration - Original image etched, engraved and hand-colored with watercolors and inks.
Book - Twinrocker handmade paper, twelve leaves. Ten illustrations were made following the process used by John James Audubon for The Birds of America, published 1827. Original images were drawn and painted with watercolors, then etched, engraved and hand-colored with watercolors and inks.
Text from The Natural History of Selborne by Gilbert White, published 1789. Hand-set in Janson Roman, Janson Italic and Goudy Italic. Letterpress printed.

Thomas Parker Williams - Concept, design, illustrations, printing, binding
Mary Agnes Williams - Concept, design, typesetting, printing
Guild of Bookworkers Traveling Exhibition - "Wildlife"
Swifts and Martins of Selborne will be part of the traveling exhibition, visiting six venues from June 2021 to September 2022.
Inspired by two men who differed widely in their approaches to documenting the identifying features and behaviors of birds, this book brings together the words of Gilbert White, who studied birds in his home village, and the artistic process of John James Audubon, who traveled extensively to document all American birds. We chose to depict two birds who also differ widely: Martins who are serious nest builders, and Swifts who are on the wing most of their lives. The book features letterpress-printed hand-set text, original images that were drawn and painted with watercolors, then etched, engraved and finally hand-colored.
Book pages