BIG small, An artist book about our place in the universe, 2016
Return to Artist Book Collaborations
BIG Small closed and open to largest page

Specifications Edition of 20
Size closed, 2.25" x 2.25_ x 1" with clear plastic box. Maximum page size opens to 10" x 7", 10 illustrations printed from etching plates over a 2-color flood ink coat. Text is letterpress printed on the Luminice Press.
Printed on tear resistant paper (Neenah Paper Tyger brand, text weight). Stained paper binding.
BIG small was designed, illustrated, printed and bound by Thomas Parker Williams.
Text was letterpress printed by Mary Agnes Williams from hand set type: Park Avenue, Janson, Vendome and Garamond.
Concept by Thomas Parker Williams and Mary Agnes Williams.
Collections
Copies are in private collections
Private collection -
The Neale M. Albert Collection of Miniature Books
Permanent collection -
Topeka and Shawnee County Public Library

BIG Small video
BIG small is a book about our small place in a big universe. Each page unfolds to show original illustrations that were produced by etching the design on to a zinc plate and then augmenting the plate with engraving. The white ink etchings were printed on to a 2-color (blue then black) flood coat. Text was letterpress printed from hand set metal type.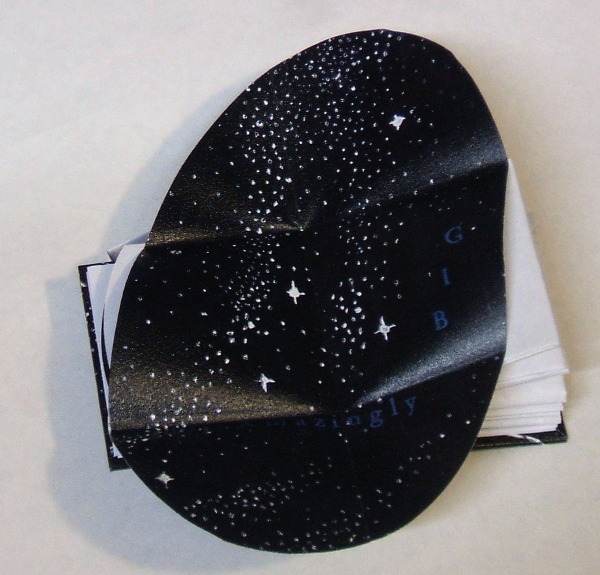 BIG Small open